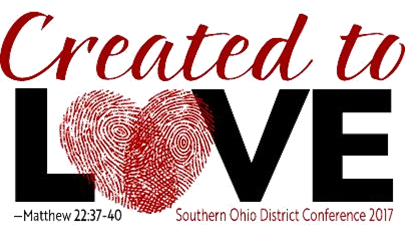 October 6 & 7, 2017 at Pleasant Hill Church of the Brethren
What a wonderful weekend of sharing in District Conference hosted with marvelous hospitality by the Pleasant Hill congregation.
District Conference convened with the pre-conference sessions on Friday afternoon led by our resource persons Debbie Eisenbise and Gimbiya Kettering. Debbie and Gimbiya are both part of the Congregational Life Ministries staff of the Church of the Brethren. Their sessions amplified the theme of "Created to Love". Following a wonderful meal prepared by the host congregation, Pleasant Hill, the opening business session was convened by Moderator John Kinsel of the Beavercreek congregation. This session included:
seating of the delegates by Moderator-elect Deb Oskin of the Living Peace congregation
approval of the agenda
introduction of Mark Bowman of the Eversole congregation and former District Moderator as parliamentarian and PJ Arndts of the West Milton congregation as clerk
presentation of the slate
presentation of the budget
welcome of our guests - Steve Mason from Brethren Foundation (a ministry of Brethren Benefit Trust), Lori Current from Bethany Theological Seminary, Sam Shultz and Charlene Haines from Everence, and Rebecca Tollifson, the Executive Director of the Ohio Council of Churches.
We then moved into the evening worship service with the main address from our moderator, John Kinsel. Uplifting music and Scripture brought encouragement to the assembled congregation. Our new District Deacon ministry was consecrated.
Saturday brought additional sessions led by Debbie and Gimbiya. Business sessions included:
Reconciliation Team report from Bob Gross
denominational report featuring the Annual Conference agencies
district staff report
treasurer's report
investment report and update provided by Steve Mason of the Brethren Foundation
recognition of ministry anniversaries
recognition of EFSM completion by Sie Brock and the Stonelick congregation
Action items included
the slate of district positions was affirmed - Carl Eubank (Happy Corner) as Moderator-elect; Phil Dell (Harris Creek), Carrie Drees (Oakland), Julie Brewer (Oakland), Dennis Delk (Potsdam) and Tom Bowser (Trotwood) for the District Board; Phil Bayer (Castine) for the Brethren Retirement Community Board. There is an opening for Program and Arrangements Committee.
the district budget was approved
the updated Articles of Incorporation and By-laws were approved, replacing the Code of Regulations. The major changes were to the name of the district, from Southern Ohio to Southern Ohio and Kentucky, and District Treasurer now being an appointment (employee) of the District Board. Some changed nomenclature in accordance with state of Ohio preferred language and denominational structure was also part of this update.
A query asking for a report from the District Board regarding same gender marriages and ministerial conduct was received.
Appreciation was expressed to the Pleasant Hill congregation for hosting the conference. District Conference closed with the passing of the gavel and Brethren Service Cup to new Moderator, Deb Oskin. Deb shared the theme for next year's District conference "We are Christ's body" and concluded our gathering with a benediction.