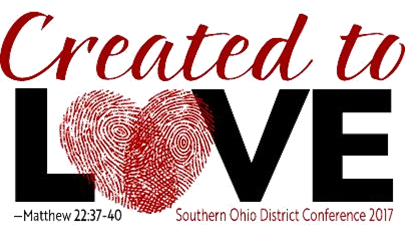 October 6 & 7, 2017 at Pleasant Hill Church of the Brethren
The theme will be Created to Love based on the words of Jesus in Matthew 22:37-40.
"Love the Lord your God with all your heart and with all your soul and with all your mind." This is the first and greatest commandment. And the second is like it: "Love your neighbor as yourself." All the Law and the prophets hang on these two commandments.
Our moderator is John Kinsel. We look forward to what God will teach us through this theme in the months ahead.

.4 CEUs will be granted for pre-conference sessions.

Conference Schedule
Friday, October 6
1:00 - 2:00 Registration
2:00-2:15 Welcome
2:15-2:45 "Christ and Contemporary Identities : How we are with and for each other" (Debbie Eisenbise & Gimbiya Kettering --Scripture Study Matthew 12:46-50)
3:00-4:00 Breakout Session
4:15-5:15 Return to Sanctuary for sharing and prayer
5:15-6:30 Evening Meal
6:30-7:00 Business Session
7:00 Worship (include commissioning of District Deacons)
Saturday, October 7
8:00-8:30 Registration
8:30-8:45 Welcome
8:45-10:15 Co-Creation and conflict: The Beautiful Terriblness of Love in Action by Debbie Eisenbise
10:15-11:30-- Business Session
11:30-12:30 Lunch/Visit Displays
12:30-1:00 Ministers Recognition
1:00-2:30 Papercuts to Gunshots: The Violence of my Biases by Gimbiya Kettering
2:30-2:50 Denominational Agency DVD and Reporting
2:50-4:00 Business
Passing of Gavel with a few remarks from Deb
Benediction