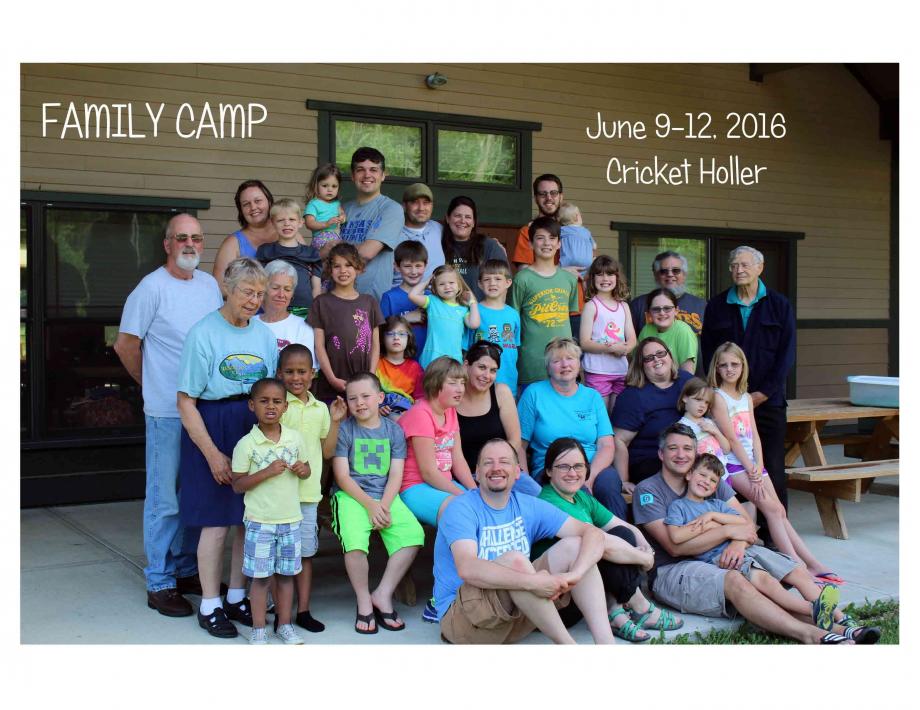 A wide range of ages and generations were treated to some memorable moments as they worked and played together. The camp was filled with happy children, excited teens, and relaxed grownups. One of the highlights of the weekend was the Great Family Olympics. Some of the events were hilarious, like throwing the cheese puff at the head of the person wearing shaving cream on their head or running a dripping sponge to fill a bucket with water. More quiet, thoughtful times shared around the campfire brought the group closer together. But the S'mores got everyone active again. It was difficult to see Family Camp end, because the special feelings of love and acceptance experienced at camp are not always found in the real life world. Yet, the spirit of Family Camp will stay with those who came until they return next year to participat in another wonderful Family Camp.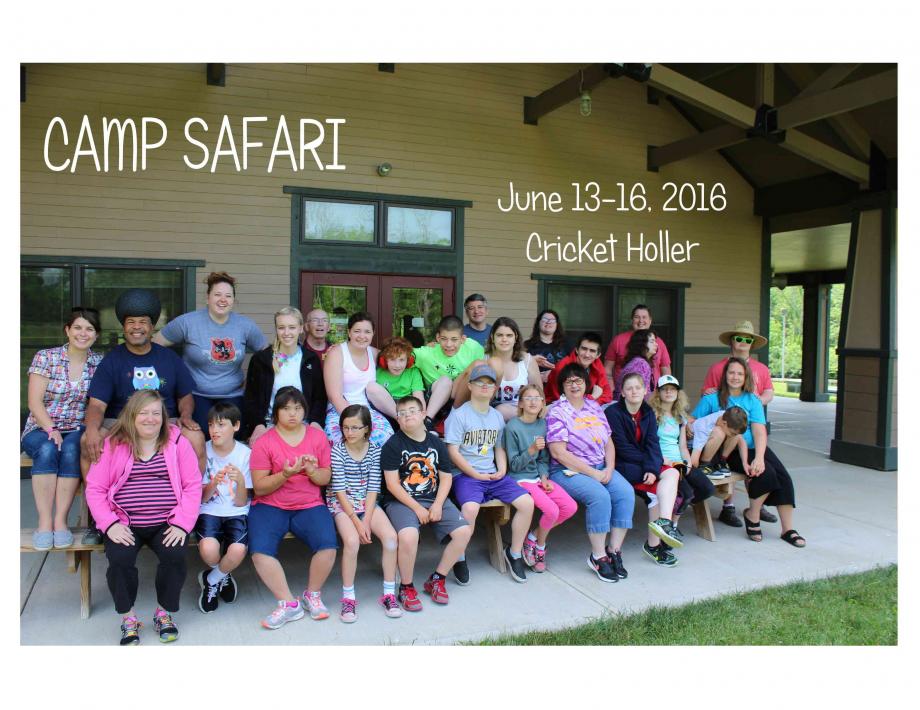 Camp Safari was new this year with the focus of providing a Christian camping experience for campers with special needs. Our hope was to have 10 campers for the first year, but were blessed by having 15 participants. The camp met in the mornings into the afternoons with one overnight for the older campers. Each camper experienced unconditional love and acceeptance by all the caring volunteers and leaders. The exciting activities of clowning around, making kazoos from detergent jugs, to interactive Bible stories, a talent showcase and closing campfire brought everyone in the camp close together in the Family of God. Such joy that abounded is difficult to describe.
Another very popular camp that brings generations together is the Adult/child Camp. Sometmes it is grandparents with grandchildren, cousins with cousins, parents with children, many combinations. Our camp had a wide variety of campers to hike, listen to stories, sing, play, paint, worship, learn about the scriptures and realize how great God's love is. Of course, some traditions like swimming, campfires, making ice cream were all hits, too. Exhausted adults and energetic kids left camp with the admission their time at camp was quite special.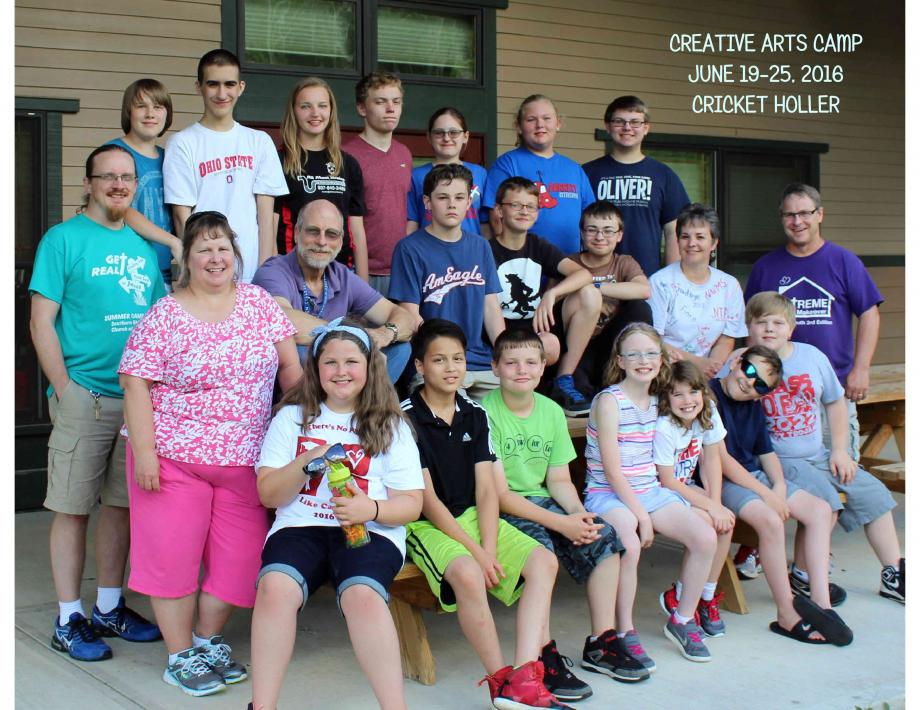 Creative Arts Camp was, to say the least, creative. The range of campers was our most extensive, third graders through juniors in high school. This made a challenging group for planning and preparing activities. Sometimes the group was a whole, but other times campers were divided into age levels or interests. A creative sandwich contest delighted the campers, but they had to eat what they made. A few even asked to make a second sandwich. Workshops abundant with ideas and activities filled many hours. Campers learned proper fire building, how to make a camera, tie-dying techniques, strawberry jam from field to jar, puzzling woodworking, singing through the ages, acting up a bit, and so much more. Bible studies on living a "Fearless Faith" had three wonderful leaders: Sue Wmpler, Linda Waldron, and Andrew Wright. Evening campfires, making ice cream, walking a labyrinth, playing instruments in a drum circle, and having a Dutch auction kept the energy going. Departing from camp reminded us all just how special the week had been. There was a longing to take the experiences back home and keep the feeling of camp going in everyday life.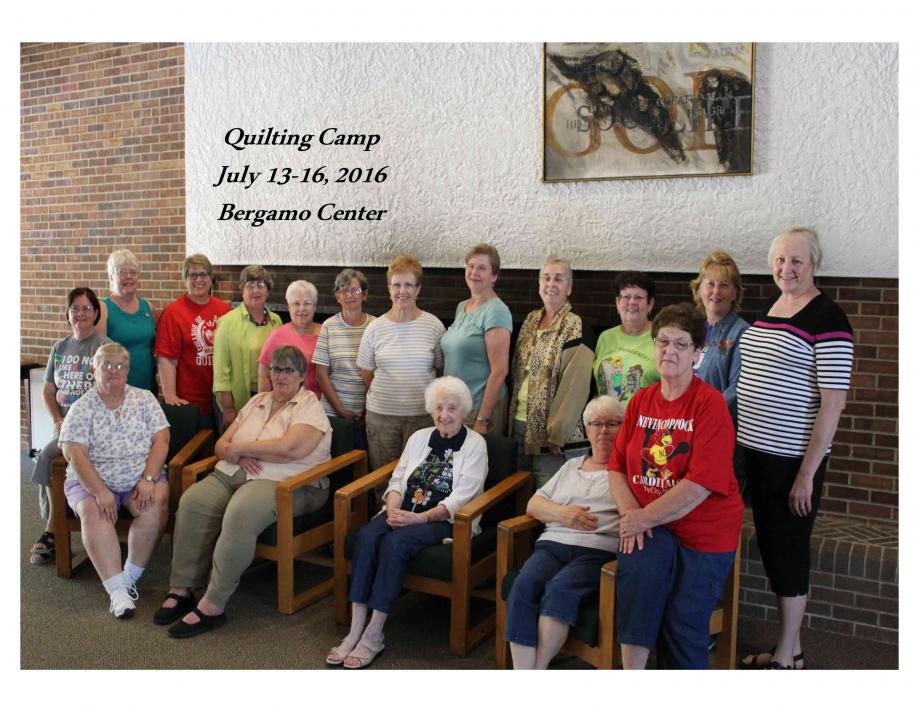 The last camp of the season was Quilting Camp. Seventeen women, some for the first time and others returning for the seventh time, came to Bergamo center for four days of sewing, piecing, cutting, pinning, marking and unsewing. Laughter sprinkled around the room of very serious quilters. The setting was a beehive of activity with many beautiful results. To say that quilters like to talk would be an understatement. The conversations were heart-warming as member shared stories of struggles and victories in daily lives. The bible study discussions hit some tender points about forgiveness and remaining in our faith. Quilting Camp is a fellowship of close-knit workers stitched together with love.
This year every person coming to camp was asked to design and make a quilt square. In the "Fearless Faith" theme was an encouragement to show one's faith by giving back to the community. So leaders, volunteer dish washers, bible study teachers, children, grandparents, caregivers, campers, cooks, anyone who was there, made quilt squares. During Creative Arts Camp, Judy Tipton, Gloria Dell, and Becky Clegg came to camp to start putting the quilts together. There were enough squares to make six quilted wall hangings. These quilts will be given to BDM's ice cream social, BRC's gala, the Golf Outiing, and the District Conference for them to use as they choose. In a way, the campers and participants of camp have each done something small. However, when that small act is multiplied over and over, and combined with others, the result is a wonderful, beautiful quilt telling the story of our 2016 camping season. The pictures, stitches, drawings, and decorations are worth a thousand words!